The Best Kayak Fishing Spots in Europe 
Want the inside info on the best fishing spots in Europe? 
Well, want no more, because here at Galaxy Kayaks we are lucky enough to have a fantastic  team of colleagues, pro-team and friends that stretch far across the European fishing community and so we have asked some of our most experienced and well traveled fishing amigos across the lands for some information on their favourite locations not for only kayak fishing, but also for some serious relaxation and taking in the local culture.
 THE NETHERLANDS 
The polders of the Netherlands offer a truly wholesome and perfectly picturesque location for any chilled out freshwater kayak fishing trip. Nestled in the glorious Dutch countryside, the polders are reclaimed, low lying, marshy lands laced with wonderful weaves of fresh waterways adorned with the iconic windmills, farmlands and technicolored tundras of tulips traditionally, and fondly, associated with Holland.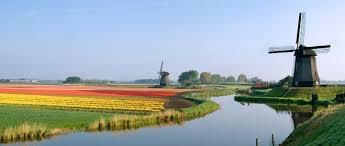 The polders, The Netherlands
There are around 3,000 polders in the Netherlands, some dating as far back as the 11th century, alluding to miles and miles of historic canals, dykes, and waterways to explore, and it is amongst these tranquil and wondrous waterways that monster Perch, tantalizing Zander, and trophy Pike lurk.
Thankfully, fishing boats are permitted along the waterways of the Dutch polders making a fishing kayak the perfect craft for cruising and perusing these peaceful, rural canals in search for some seriously big fish. And we mean some seriously big fish! Due to the excellent water quality in Holland, specimens of super Pike over 1.2 metres in length have been fished in this part of Europe. However, be aware that live bait has been strictly prohibited in the Netherlands since 1996 and there are substantial fines for ignoring this strict regulation. Also, in the Netherlands, it is important to know that they always practice 'catch and release'.
One of the oldest and most famous of the Dutch polders is the Beemster, which was formed in 1609 - 1612 and lies around 29km north of Amsterdam. The Beemster is a huge area of reclaimed land with an abundance of waterways to fish from and if you want to enjoy a little downtime whilst you're there, then we have found a fantastic hotel for you to check out.
The Fort Resort Beemster Hotel is a cool and beautifully restored historic fortress that originally formed part of Amsterdam's defence line. It is a World Heritage site and is the first C02 neutral hotel in the Netherlands. The hotel's ethos focuses entirely on eco-friendly facilities and has a wellness centre, complete with Hammam, bar, and restaurant serving organic food, and has bikes available for rent. Wifi is free and there is plenty of parking on the grounds for a car and a kayak.
So, why not take in a little history whilst you enjoy some hearty organic delicacies, discuss your next kayak fishing adventure amongst the polders, and the prospect of potentially reeling in that perfect trophy Pike.
 l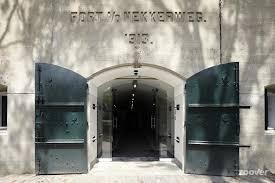 The Fort Resort Beemster Hote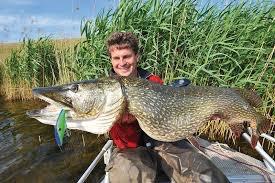 Monster Pike from the Dutch Polders
Check out availability and prices of The Fort Resort Beemster Hotel with the teams at booking.com and other comparable sites.
SWEDEN
If you want a European fishing kayak expedition that is both spectacular and serene then set your compass north and head to the rivers and lakes of northern Sweden. Here, although the winters in this far reached part of Europe are, it's true, long and cold and seemingly uninviting, they are followed by bright, invigorating and bountiful spring and summer months that are bathed in perpetual daylight and thankfully, coincide with the fishing season.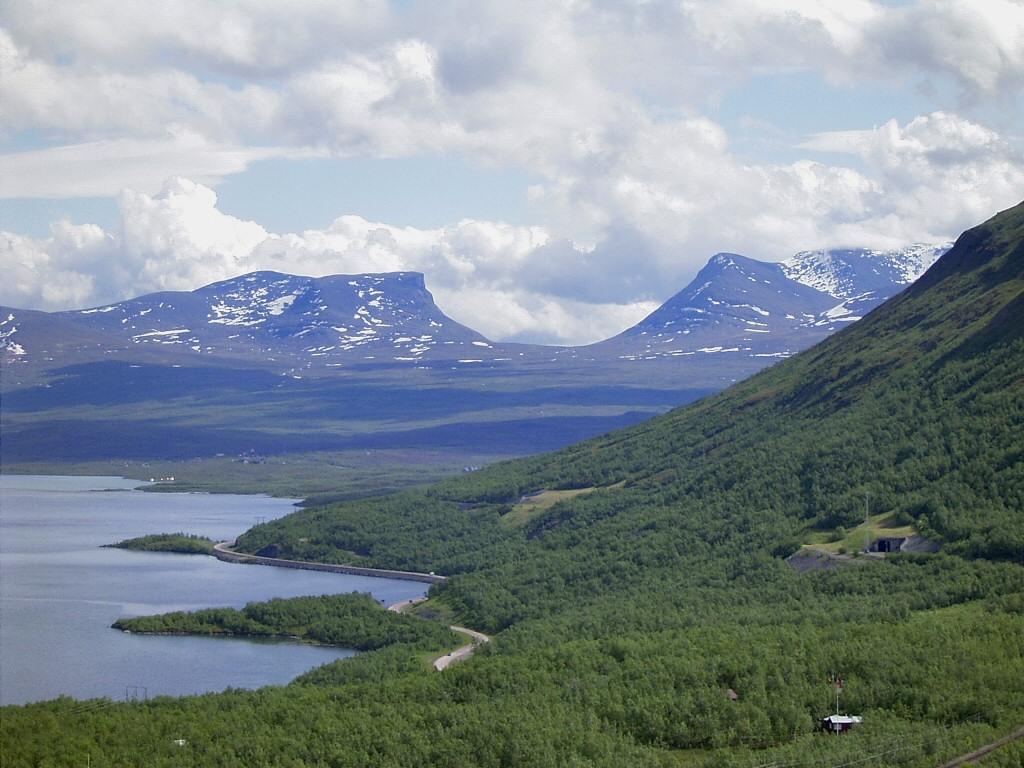 North Sweden Mountain Lakes
Surrounded by snow-capped mountains and pine forests, these cool, deep, secluded lakes and rivers stretch for miles and miles and due to northern Sweden's uniquely remote locations and virtually untouched, natural environment the standard of fishing is excellent. From early spring into autumn landing an elusive arctic char under the luminance of the summer's midnight sun or the autumn's Northern Lights is not uncommon. Salmon, Perch, world-class Prayling, 70cm long brown Trout, meter long Pike, and record sized Roach are also abundant in these alpine waters.
If you're wondering where you can lay your kayak for the night, whilst lazing back and gazing at the Aurora Borealis and pondering tomorrow's arctic fishing challenge, then take a look at one of the options we have found for you.
Wilderness Life Lodge is located in Auktsjaur, mid-north of Sweden, and is surrounded by over 4,000 lakes, 4 rivers and a multitude of creeks. The lodge is accessible by air, car or rail. Accommodation, offering bed, and breakfast is available in the main lodge, but there are also two private riverside lodges available that are perfect for those who want to fully embrace wilderness living. They are simple, neatly designed cozy, little cottages that can sleep up to 4 people. Each is equipped with cooking facilities, a wood burning stove, a sauna, a campfire and is positioned on the banks of its own private lake.
These, and the many other stunning surrounding lakes, are perfect for small, unmotorised fishing craft and a fishing kayak is the perfect vessel to help ease you into the midnight sun/polar night cycle, just south of the Arctic circle and cruise across a crystal-clear lake, in the cool, fresh alpine air in search of an Arctic Char or a prestigious Pike. You can also try your hand at a number of other wilderness-based activities at Wilderness Lodge such as ice fishing, survival camping, snowmobiling and dogsledding.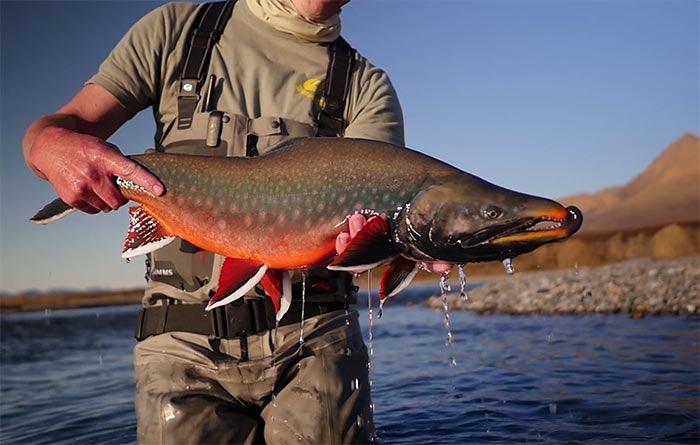 Arctic Char in Sweden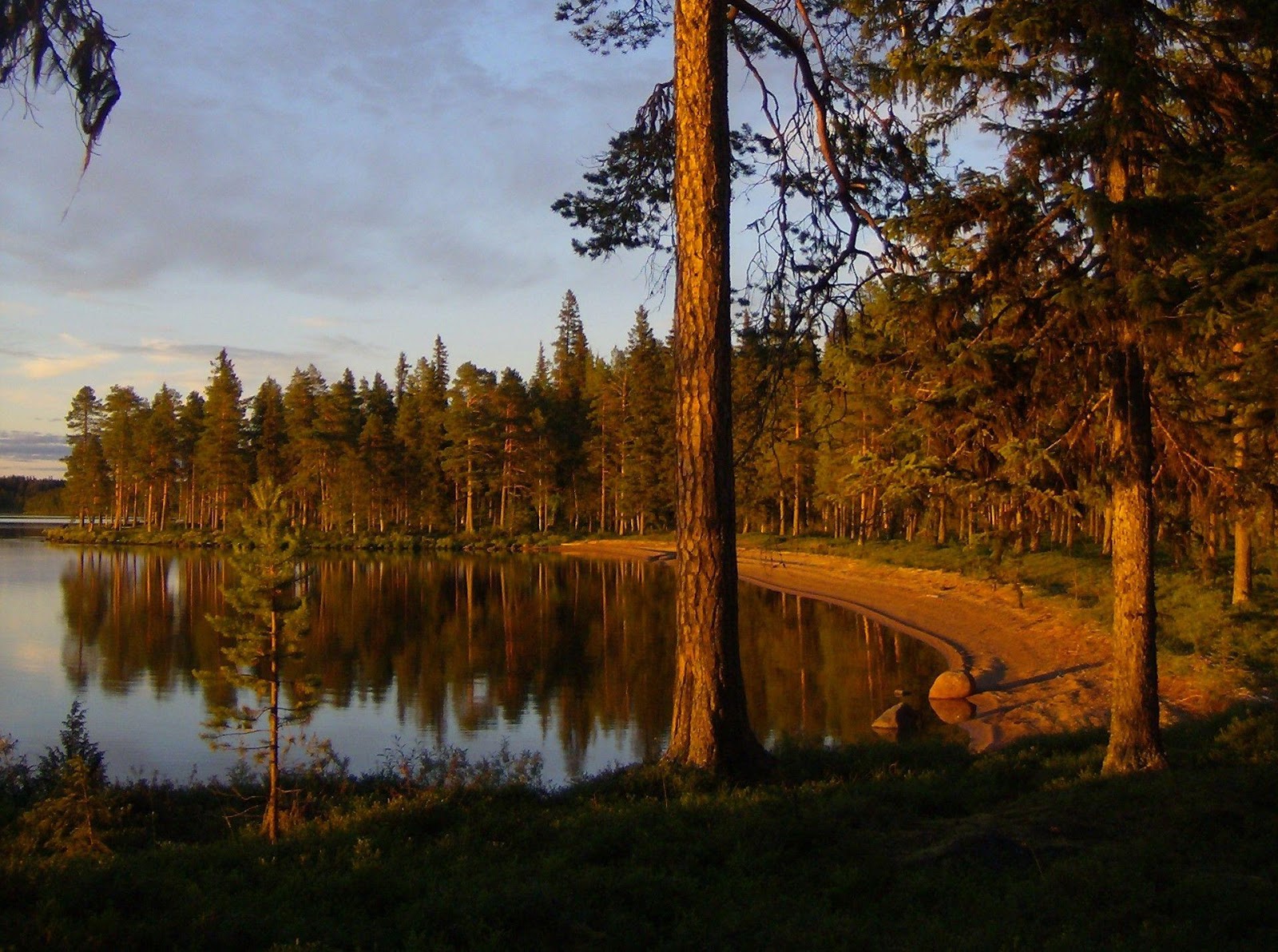 Views from Wilderness Lodge
For more details on Wilderness Lodge check out the link below.
http://www.wildernesslife.se/Home-Wilderness-Life.html
SPAIN 
Southern Spain has over 1000 miles of stunning, sun-drenched Mediterranean coastline, backed by jaw-dropping mountain ranges and culturally diverse towns, villages, and countryside. Cruising along this magnificent coastline by car, kayak on the roof, is made easy by good roads and an abundance of cool, secluded destinations to stay or simply hang out in, whilst taking on board the local culture en route. From the Costa Blanca to the Costa del Sol coastlines and horizons stretch as far as the eye can see and are for the taking as far as kayak fishing is concerned.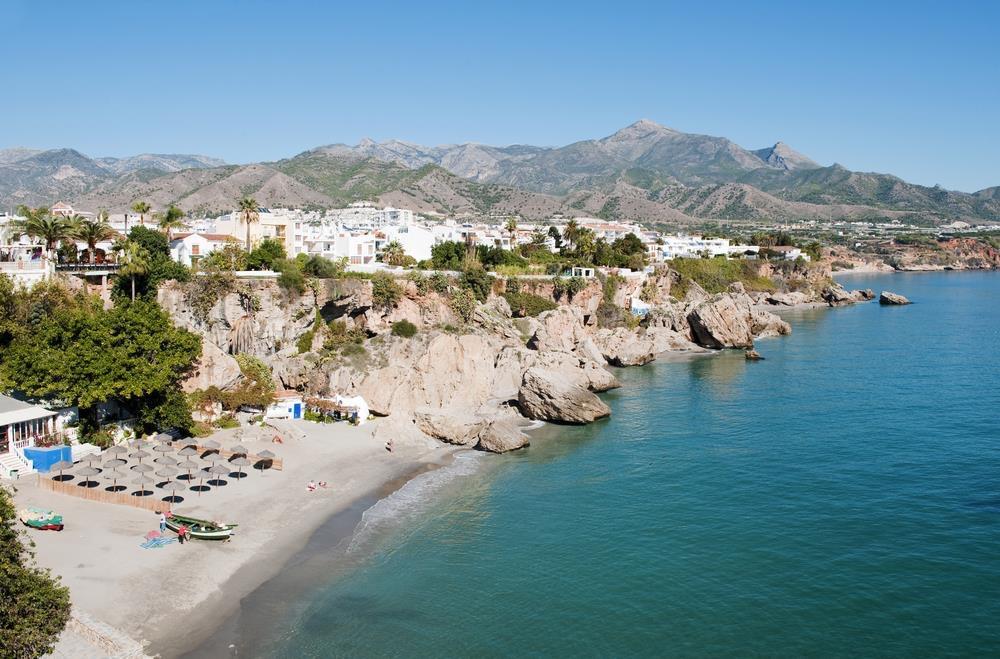 Costa del Sol Coast Line
Launching your kayak into the deep, blue Mediterranean sea from the sunny shores of Valencia or Alicante will stand you in good stead for some seriously good sport, as big, silvery Bluefish (Anjovas) known for their ravenous appetite and vigorous, deep sea fight, are particularly plentiful in these parts of the Med. After you have carved your way along the the Costa Blanca and had your fill of sporty, Bluefish fodder, head down to Andalucia, where the seas off Malaga, Mijas, and Estepona are superb for exploring and reeling in some pretty perfect, two pounds plus, red Mullet (Sama) and gloriously sized dusky Grouper.
There are many ports and infamous "go-to" destinations along this stretch of the Spanish shoreline, most offering a variety of fishing excursions or tours. Boat fishing, shore fishing, kayak fishing, sailing, paddle boarding, and kite surfing are all seaside sports that are taken seriously along this coast, together with some heavy duty holiday making. Therefore, finding a place to stay is going to be no hard feat, but finding a retreat that's off the beaten track and away from the hustle and bustle of your usual sun lounger beach culture is maybe a little more difficult.
Airbnb offers those tucked away gems that can be the making of a trip; we've found this little number that looks serenely set for a getaway. A cast away from the deep blue sea and the tantalizing catches of the Estepona shoreline.
Estepona, approximately 90km from Malaga, is a very pretty, reasonably sized, traditional Spanish port town with a plethora of beach bars, cafes, restaurants and shops offering a variety of local products and produce. The old town is a weave of ancient churches and boutique shops, whilst the new part of town gives way to high street names and world cuisine.
Nestled 1.5km from Estepona port, in the rural foothills of Sierra Bermeja, Las Adelfas is a neat little Finca that sleeps five, has a private pool, plenty of parking and amazing views of the surrounding mountains and local coastline. It's perfectly placed not only for access to the beach but also for local hiking and cycling routes in the area.
If you prefer to be away from the hustle and bustle of the coast why not venture closer to the stunning white villages of Casares and Gaucin (a short drive from the historical wonders of Ronda). Here we have located a rural treasure of a house available on AirBnb; this finca is situated directly between the two villages with the river 'Rio Genal' as its border. For a truly countryside-immersed experience, this cozy, fully-equipped family home complete with a natural pool, extensive grounds, plenty of parking space, great WiFi, space to store and clean your kayak and equipment, bikes and sports available on-site, vegetable garden, fresh local eggs for breakfast, sleeps up to ten people. This is a tranquil, beautiful setting for the full-on rustic 'campo' life. 
Make a log-fire in winter or enjoy plunging into the natural pool or river in summer; this place has it all.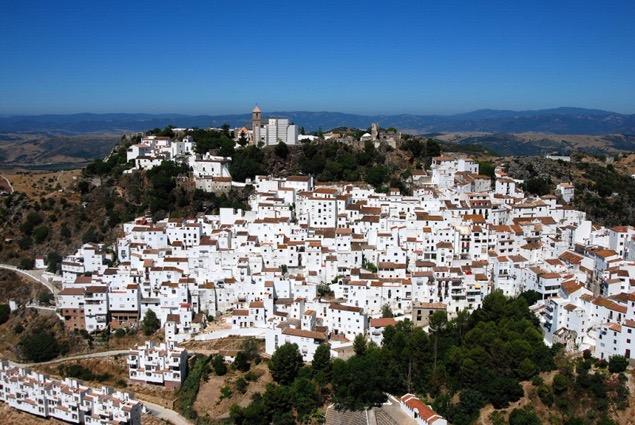 The Stunning White Village of Casares
Click this link for more info. https://www.airbnb.com/rooms/21760355?s=51
So, whether you are feeling the fresh mountain evening air of a local pueblo Flamenco themed fiesta or absorbing the sunny disposition of the Med's beachside after sun offerings; such as fresh, flame grilled, salty sardines, cooked el espeto (on a spit) over an open fire, the spirit of the Spanish Mediterranean seas will be with you from the moment you launch into the warm waters of The Med to the moment you lay your head down for the night and dream of those dusky Groupers.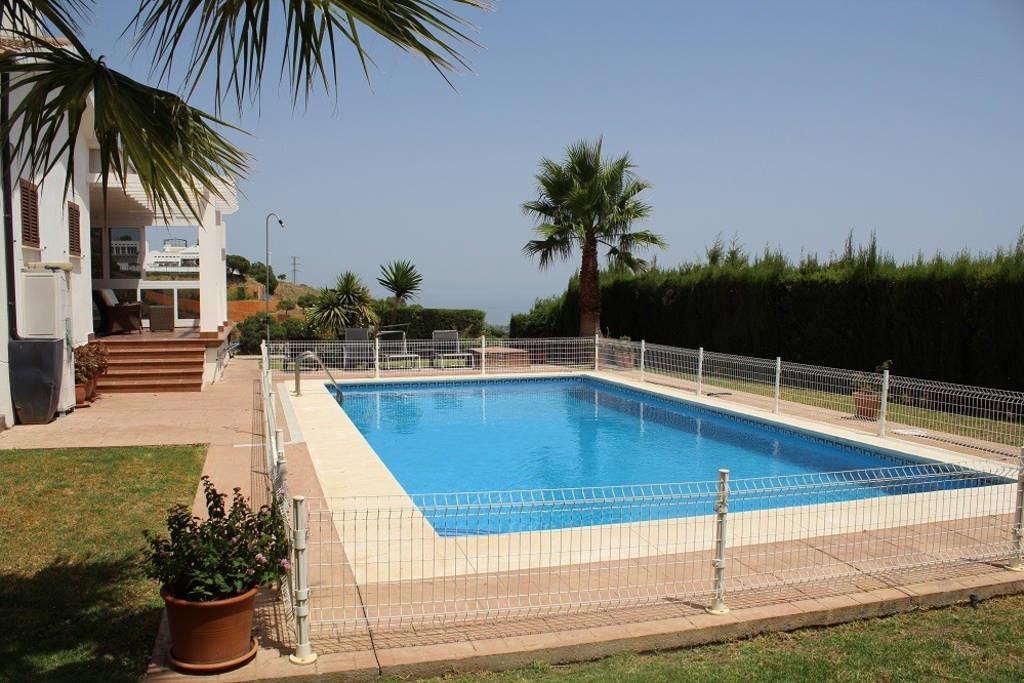 Las Adelfas Finca's private pool, Estepona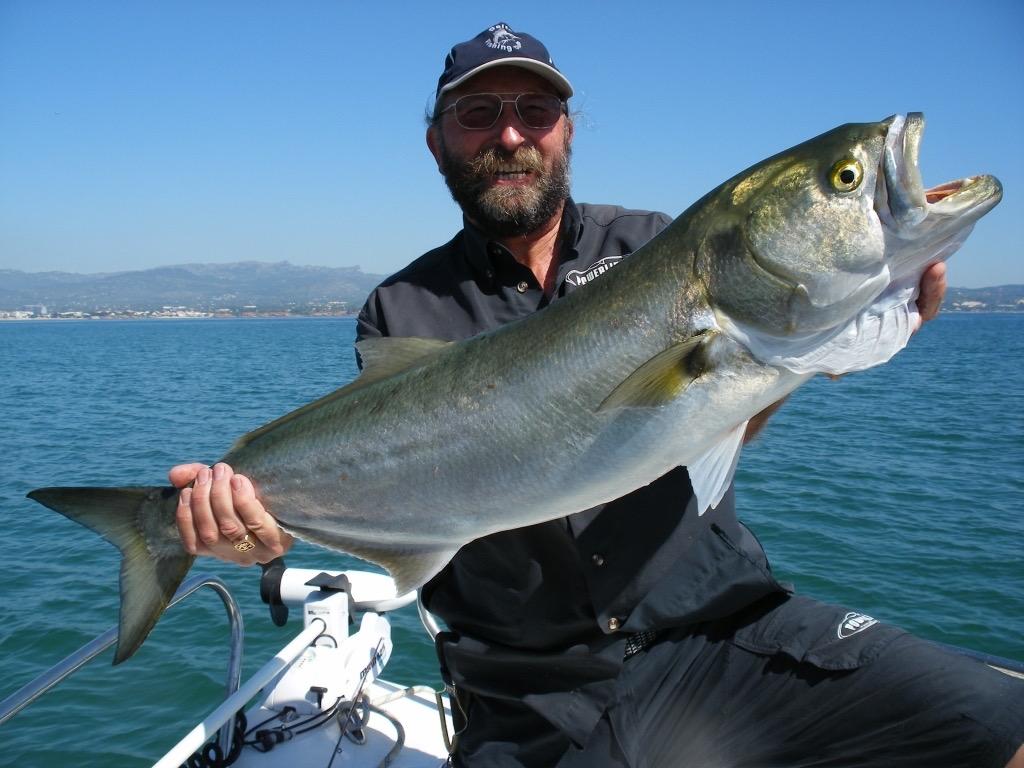 Big Bluefish, Coast of Spain
Check out the Airbnb link below for more information on el finca de Las Adelfas.
https://www.airbnb.com/rooms/18456518?location=Estepona%2C%20M%C3%A1laga%2C%20Spain&checkin=&checkout=&adults=4&children=0&infants=0&guests=4&s=K_TEQcU4
ITALY
Italy holds the key to many ancient arts and culinary and cultural delights, and the province of Tuscany certainly has it's far share of those. From the Renaissance art and architecture of the region's capital Florence to Pisa's leaning tower of 1372, Tuscany's historic cities, stunning landscapes and delectable cuisine have, for centuries, inspired and excited the world.
One Italian delight, as far as the ancient art of fishing is concerned, is The Orbetello Lagoon tucked away on the Tuscan coast. This lagoon is a vast 27 km2 virtually landlocked, a saltwater lake that surrounds the tied island of Orbetello, which rises on a thin strip of land in the middle of the lagoon. The East and West lagoons are separated from the Tyrrhenian Sea by two tombolos (narrow strips of land) connected to the mainland on either side. In this case, two glorious, long, sunny, sand dune filled beaches, known as the Tombolo della Feniglia and the Tombolo della Giannella.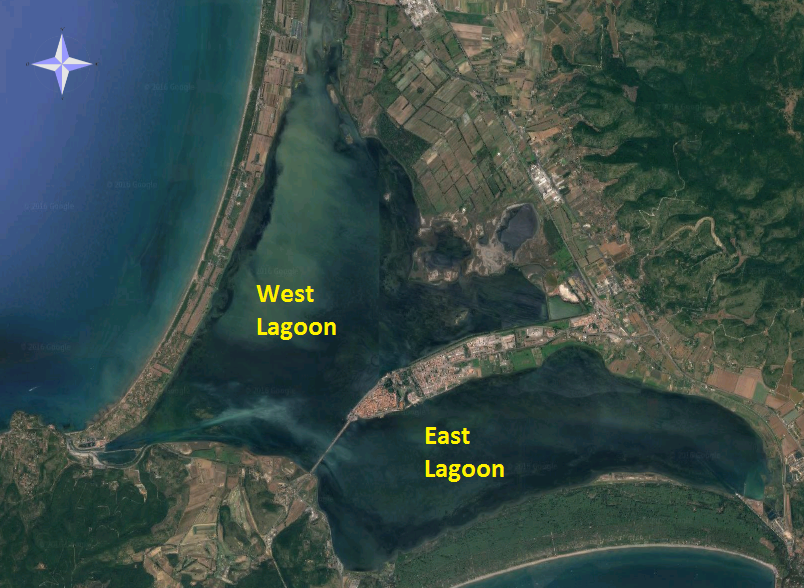 Orbetello Lagoon, Tuscany, Italy
Orbetello's historic centre dates back centuries with artifacts on display from 150 BC, along with C13th Roman ruins and C15th and C16th fortresses, castles, and churches, making this an utterly charming, ancient and culture soaked coastal oasis to fish from.
Sea Bass, Sea Bream, Mullet, Snapper andEels are the most commonly caught species in this huge, mirror-like body of water, and a fishing kayak is a perfect craft for exploring the lagoon and all its hidden treasures. This is one of Tuscany's most uncontaminated natural areas and so not only are the fish here healthy and plentiful, but many spectacular birds, such as Pink Flamingos, white Herons, and Sea Eagles migrate to the lagoon's cherished wildlife reserve which is filled with juniper, marine and domestic pines and other typical, fragrant Mediterranean flora and fauna.  
There are many places to stay on the Island of Orbetello, and the surrounding coastal areas, that have excellent access to the lagoon, including all standards of hotels and apartments, but If you are looking for a relaxed environment and a natural location then look no further than the Orbetello Camping Village, actually located in the Orbetello Wildlife Park, right on on the west lagoon beach front.
Orbetello Camping Village offers a variety of different accommodation options, along with swimming pools, play parks, restaurants, bars, nightlife, free parking, and free wifi. The amenities are modern and stylish with a 4-star rating from Trip Advisor.
So, enjoy a bottle of deep red, delicious, local Chianti with a steaming hotpot of smoked eel spaghetti, caught fresh from the lagoon and steeped in age-old tradition.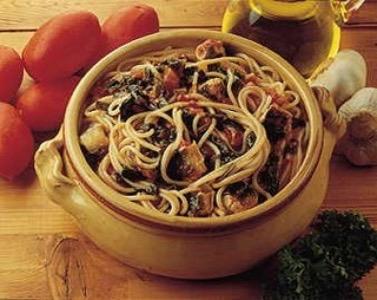 Smoked Eel Spaghetti, Tuscan Style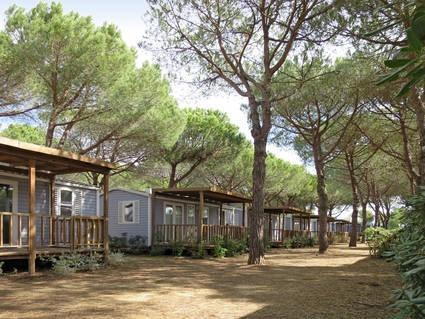 Orbettello Camping Village, Tuscany
Take a look at the trip advisor link below for more details on Orbetello Camping Village.
https://www.tripadvisor.com/Hotel_Review-g194839-d1879173-Reviews-Orbetello_Camping_Village-Orbetello_Province_of_Grosseto_Tuscany.htm
DENMARK 
It's 975 AD, the mist is low and the scent of endeavor, victory, and prosperity fills the air. The reign of Denmark's six Viking ring castles thrives and standing strong in central Denmark, on the island of Fynen, Sweyn Forkbeard, one of the mighty six ring castle Nordsmen, occupies Odense, the capital of Fynen. His grand, 120-meter diameter, circular fortification sits proudly upon Nonnebakken(The Nun Hill)and he has complete command of the Odense river.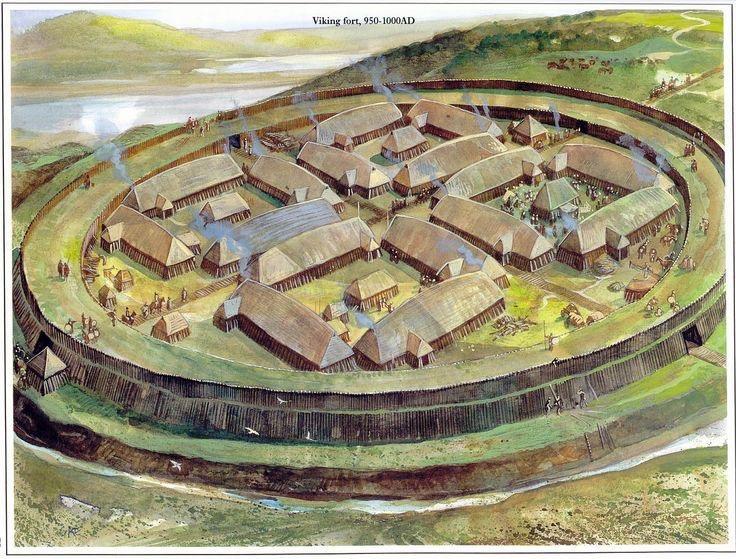 Nonnebakken, The Nun Hill settlement. 975 AD
The Odense river flows from directly below Nonnebakke into the Odense fjord, that feeds from the North Sea. The Odense river has protected and provided for many generations of Odense dwellers, including the Benedictine nuns that lived on Nonnebakken for many years before Sweyn Forkbeard and his warriors laid their claim, and from whom the hill takes its name.
As with all flourishing communities, fish played a major part in the Vikings' diet and this abundant, 60-kilometer long river helped nourish and sustain Sweyn's C10th settlement and it's powerful, bountiful and fearsome residents for many years. The Vikings used small, beautifully crafted, double-ended boats for fishing, and rare examples of canoes from that era have been discovered. However, it has often been wondered if they ever tried their hand at using kayaks for fishing.
The Norsemen of the time certainly ventured as far north as Greenland as far back as the C10th and would have definitely seen the Inuits skilfully hunting and fishing from their nimble, efficient and practical kayaks. And so perhaps it is possible to imagine those adventurous Vikings excitedly launching their very own, newly-crafted type of kayaks into the Odense river, laden with barbed, iron hooks and simple, but barbarously effective harpoons to fish for their lives, hunting for tasty Trout and perfect Pike, ensuring that their community thrived and that their legacy survived, over a thousand years ago.
Hop, skip and a paddle forward to 2017 and although you can still visit Nonnebakken (unfortunately the archeological remains of that monumental C10th historical site have been heavily damaged and are really only visible from the air), where the Odense river stays virtually unchanged. Now's your chance, the modern day kayak fishing adventurer, to follow in the Vikings' wake and cruise along this magnificent river for yourself to discover the many different, bountiful 'beats' along the way.
However, unlike the unruly days of the Vikings, fishing season applies between March 8th and November 15th. A license is required and a one day, the local fishing permit can be acquired via Go Fishing at https://www.go-fishing.dk/2010/09/28/river-odense/?ph=9f761adfc3ce412d4bbec933. You must also have a valid national fishing permit, which can be obtained at www.fisketegn.dk
The Odense river is exceptionally good for Sea Trout fishing, and as these strong, sporty fish can swim upriver for over 50 kilometers there is plenty of rivers for them to swim upriver in! Head towards the upper beats towards the end of the season and the Sea Trout will be mature, a good size and a superb challenge. Nearer the city of Odense, the river is broad, deep and slow-moving and is the perfect spot for Pike, Perch, and various other good sized coarse fish.
If you are looking to fish like a Viking, you should experience a dwelling that is both truly rural and historic and we have found a fascinating little place on Air BnB that certainly fits the bill.
Fjordhytten is a brilliantly refurbished 1930's train carriage that is nestled near the river approximately 20 kilometers from modern-day Odense. It has 4 bedrooms, 1 bathroom, a kitchen, running water, heating, and air conditioning, wifi, a boot dryer and plenty of free parking. It has an outdoor sink and cutting board for fish, pets are welcome and it even has a working vintage record player!
So, bring your vinyl and spin a record whilst you spin a reel and catch some serious Sea Trout to salt, and lay back and relax with the mighty sense of skill and success that a good days fishing allows you, just like those ancient warriors of 975 did all those moons ago.
Check it out at https://www.airbnb.co.uk/rooms/12649380?location=Odense%2C%20Denmark&s=0w-ENenX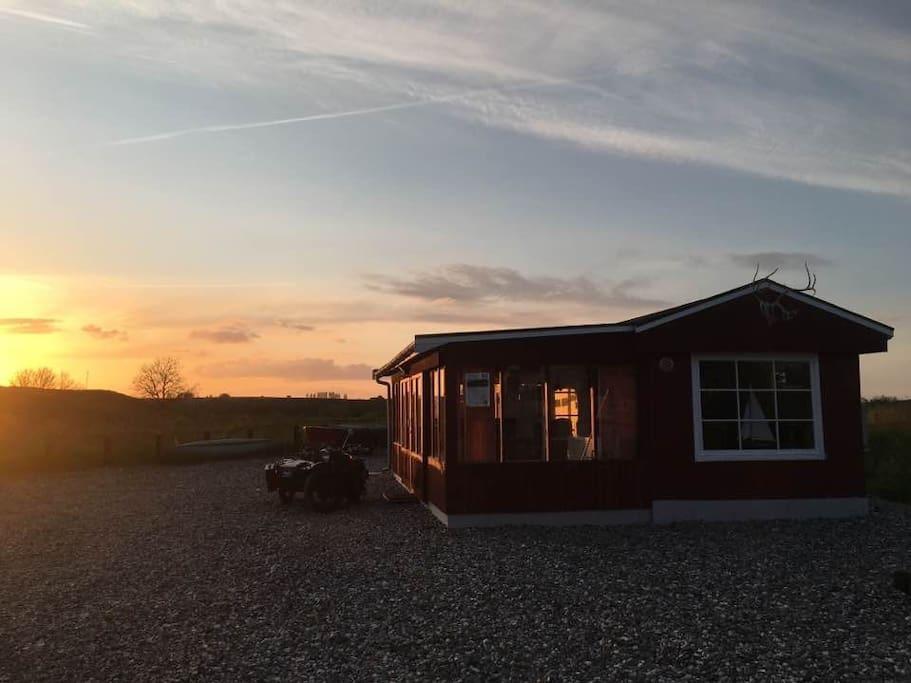 Fjordhytten 1930's Train Carriage Conversion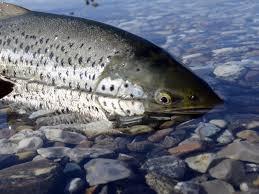 Sea Trout from the Odense River
FRANCE
Fancy a little chateau soaked Claret during your European kayaking excursion? Well, look no further than the wonderfully rich, ripe and plentiful province of Gironde in Southwest France, where beautiful and bountiful Bordeaux resides.
Gironde, and in particular the area of Bordeaux, has over 120,000 hectares of vineyards that produce, on average, around 7 million cases of wine per year, which equates to approximately 1.5% of the entire worlds' total wine production, and all this is just a sip upstream from the magnificent Gironde estuary.
The Gironde estuary flows into the Bay of Biscay and is the largest estuary in Southwestern Europe. It is forged by the meeting of the mighty Dordogne and Garonne rivers and is a lengthy 80 km running between 3-11 km wide.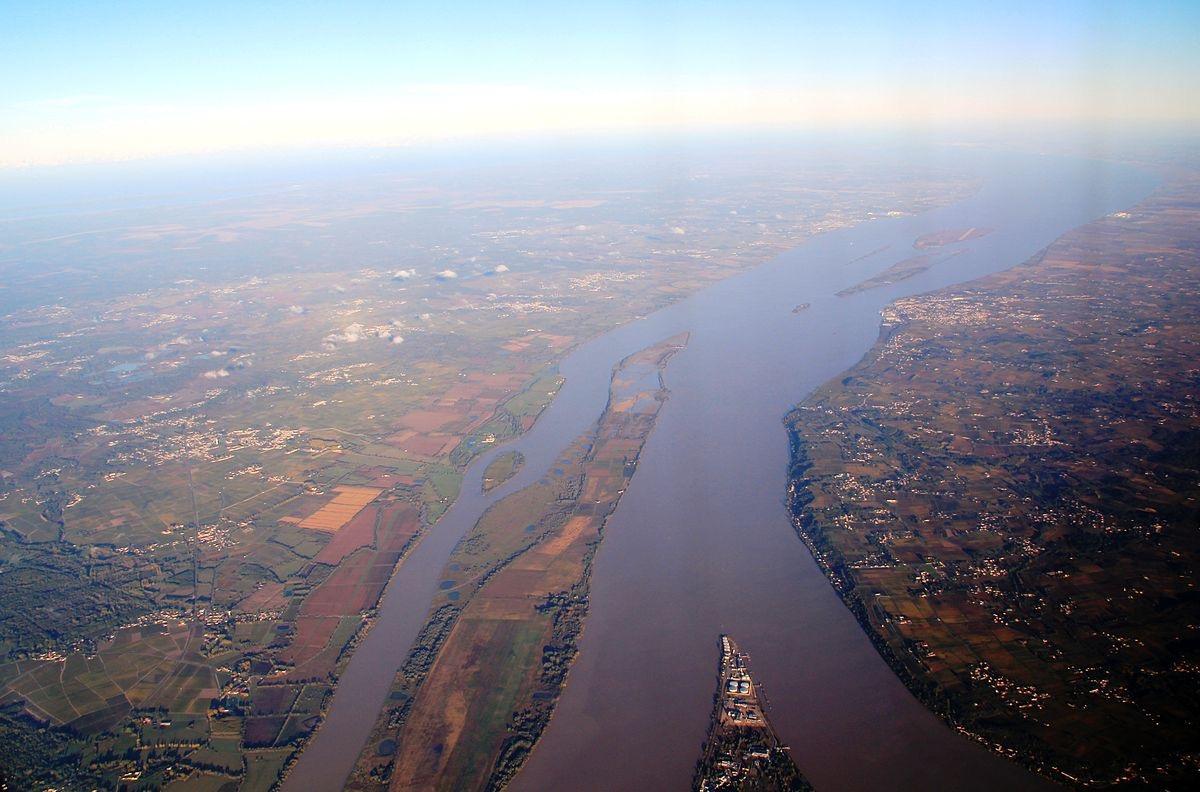 Gironde Estuary as it flows in Bordeaux
Originally formed as one the 83 departments created in 1790 during the French Revolution, the region of Gironde is the largest of the French departementè and is host to the longest beach in Europe; Côte d'Argent, which attracts hundreds of surfers every year. It also boasts the tallest sand dune in Europe, The Great Dune of Pyla, which is in Arcachon Bay, near Bordeaux.
Considering the region's plethora of beachside boasts it's worth mentioning that Gironde is also the birthplace of the great naval officer, explorer, and conservationist Jacques-Yeves Cousteau who, born in 1901, was at the forefront of modern underwater diving innovation during the 1940s. He passionately studied the sea and all forms of underwater life, leaving behind him a great legacy of pioneering research, discovery, invention, and conservation and his wise words from the mid C19th ring true more than ever today.
"The sea, the great unifier, is man's only hope. Now, as never before,
the old phrase has a literal meaning: We are all in the same boat."
Jacques Cousteau
The likes of Eel, Gilthead, Cuttlefish, Sole, Bar, Speckled Bar, Mullet, Sea Lamprey, Monkfish, Squid, Kite, Shark, Shad, and Sturgeon flourish in these waters. However, this is also the only known breeding place of the great grunting fish; the Meagre. Infamously known as "the grunting fish of the Gironde estuary" due to the unique noise that the males make during reproduction which can be so loud that it can be heard from the boat. The Meagre can reach a huge 2m in length and 60kg in weight and is an excellent fish to eat. Demand is getting higher but thankfully, much is being done by local fishermen to preserve and protect the conservation of this fascinating fish and as such more and more mighty Meagre return to the estuary every year.
If choosing a place to stay in Gironde that has good access to the estuary, then head to Bordeaux where many of the chateaux offer overnight accommodation and wine tasting experiences. For example, Le Relais de France Mayne is a magnificent, recently restored, sandstone house, set on seven acres of idyllic vineyards. It is a little on the  'pricey side', but its elegant, individually themed rooms, natural pool, and rural location make for a truly stunning Bed and Breakfast.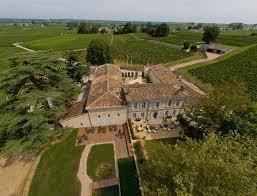 Le Relais de France Mayne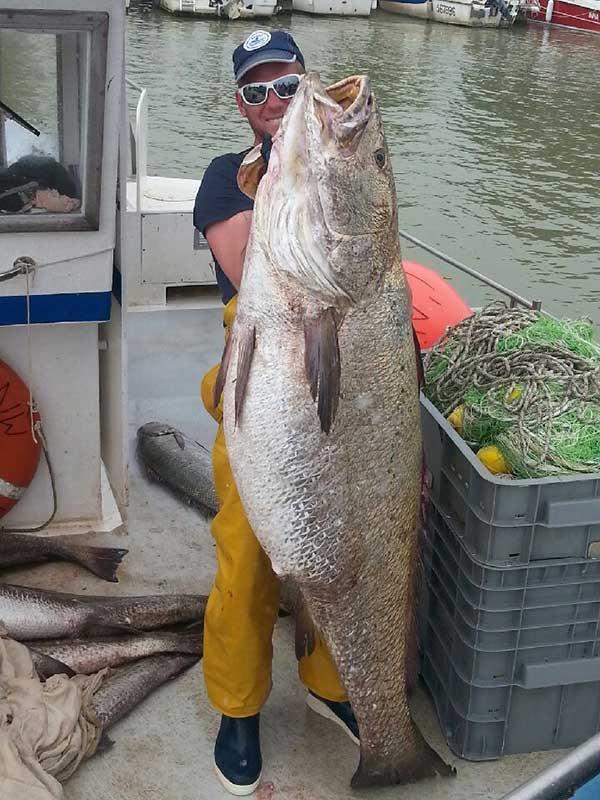 A "grunting" Meagre from the Gironde Estuary
https://www.thehotelguru.com/hotel/le-relais-de-franc-mayne-bordeaux
So, enjoy a tipple or two whilst you explore hectares of lush vineyards, world-class restaurants and beautiful heritage sites as you soak up the atmosphere of Bordeaux at the end of a thrilling day's fishing along one of the most extraordinary estuaries and indeed coastlines in Europe.  
We would like to thank our teams Galaxy Kayaks Italia, Galaxy Kayaks Spain, Galaxy Kayaks Scandinavia, Galaxy Kayaks France and all our Galaxy Kayaks friends for their fantastic advice on some of the best places to visit and fish from in Europe. If you want to learn more about these expert fishing teams please visit the following Galaxy Kayaks websites: